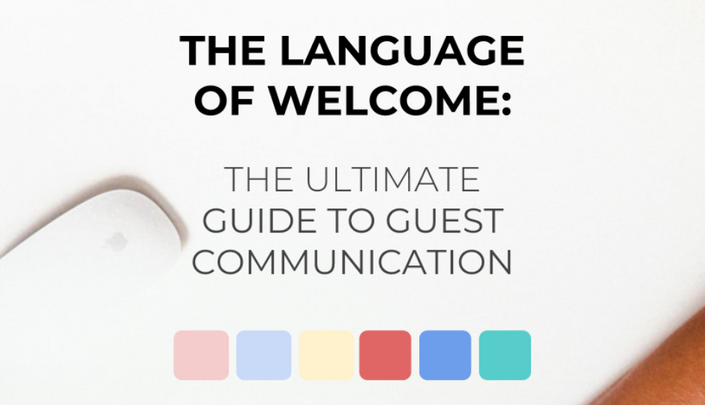 The Language of Welcome
The Ultimate Guide to Guest Communication
The Words YOU Need to Communicate with Guests so that you Book, Delight, and Get 5-Star Reviews
Over 20 pre-written scripts, from inquiry to reviews.
It's the quickest and most effective way to go from being at a loss for words to confident and in control.
Designed to help you step up your guest communication.
You'll have a strategy when guests ask for discounts. Ahh, discount requests! You will know when and how to say no or yes (sometimes, I say yes).
Literally word-for-word, step-by-step. Nothing is left out!
You hear the lovely ping of an inquiry. Yay!
Just one word."Available?" Booo.
Or worse—those dreaded awkward Questions:
"Can I check out late?" or "Can I bring my cat?" or "Can I get a discount?"
Worst than an unrecognizable stain... almost.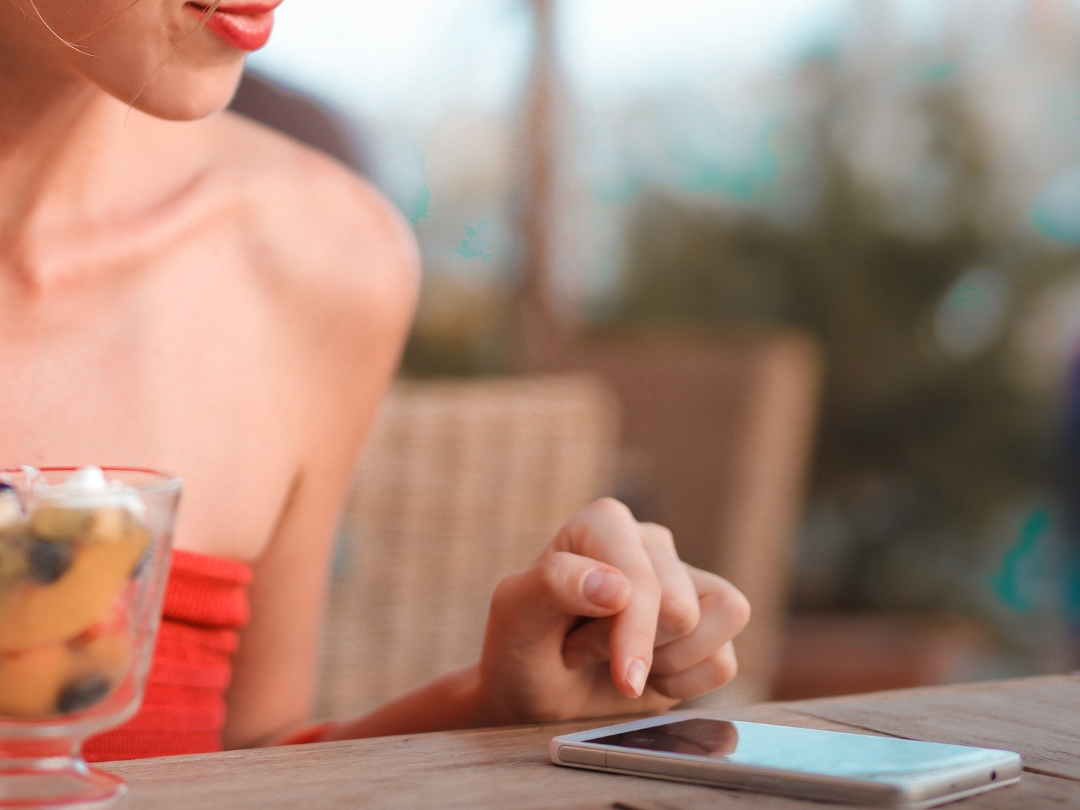 Instead of dealing with the anxious pit in your stomach and the back and forth with everyone you know.
"Should I deny them?," "But it's the slow season."
"What do you think I should say?"
Steal all my Secrets. All my Words.
Go from a one-word inquiry to a confident response,
getting that guest to start a bridge of communication
in as little time as it takes to brew that perfect cup of coffee…
What you get when you buy
The Language of Welcome
Since 2010 I have opened my home to over 1,982 Guests from 45 countries. That's a lot of people (and laundry) with different languages, needs and unique situations.
If there's a host-to-guest scenario, I've lived it and written a message about it. Now I'm ready to share my tried and true communications formula and style with you.
Freedom: You'll have pre-written messages from inquiry to reviews, and everything in between, for you to either use as-is or customize. When your guest asks "Can I bring my dog?" and you don't accept pets in your Airbnb, now you've got the perfect response.
Confidence: Find just the right the words to either turn down that guest asking for a discount or accept them with your conditions. Yes, I've written a template with both scenarios. Now you have the exact words you need to say "yes" or "no" to their request.
Self-Assured: Your guest wants to check in early or leave late? I'll give you the exact words to say to avoid any awkward back and forth.
Ease: Don't know how to review a guest? I've got you covered…I even have a template of what to say if you get a negative review. Not that you will.
Convenience: I'll show you how to create an automatic system so emails go out to your guests while you're getting your beauty sleep or doing laundry. (I recommend sleep.)
What you get:
Over 20 Scripts you can either use word by word or use to get you started on your own customized message, because every guest is unique. There's nothing like sprinkling a little of what makes you special into your communication.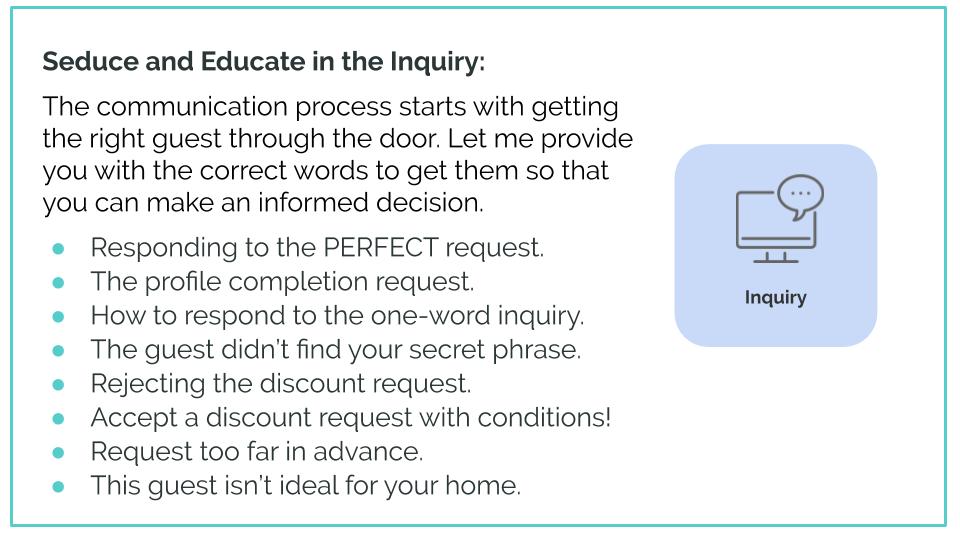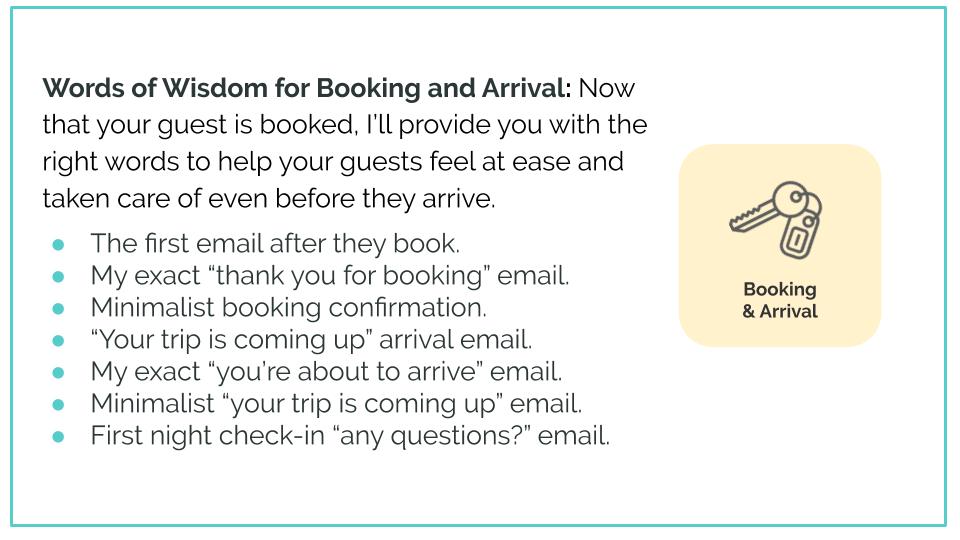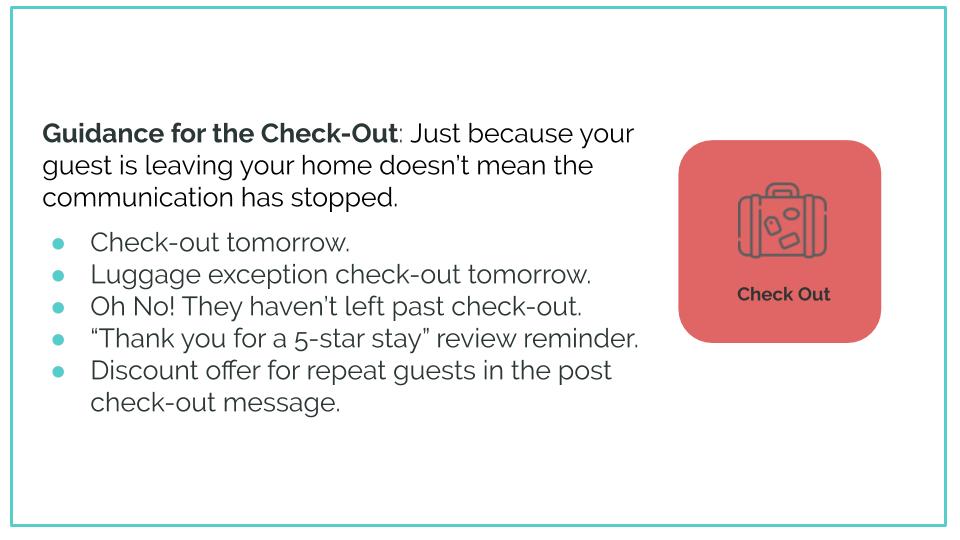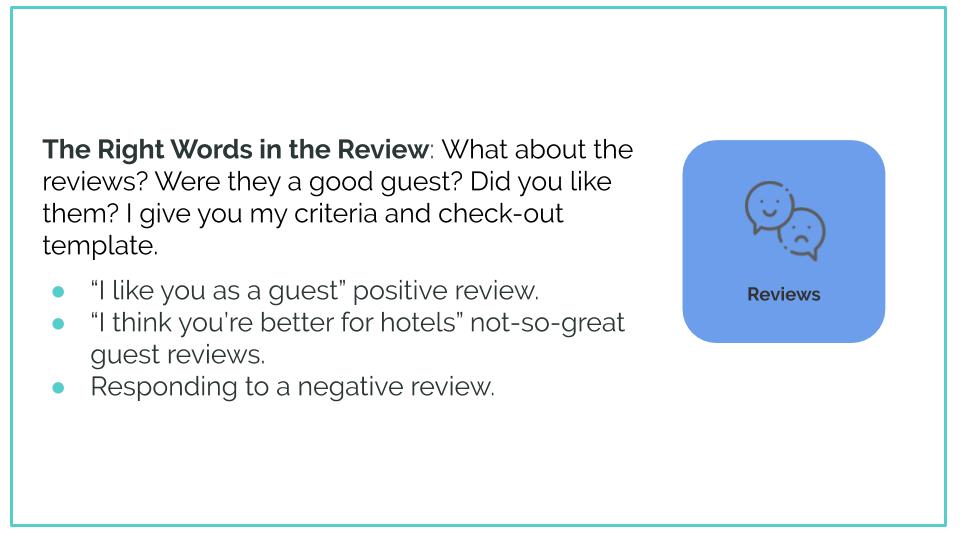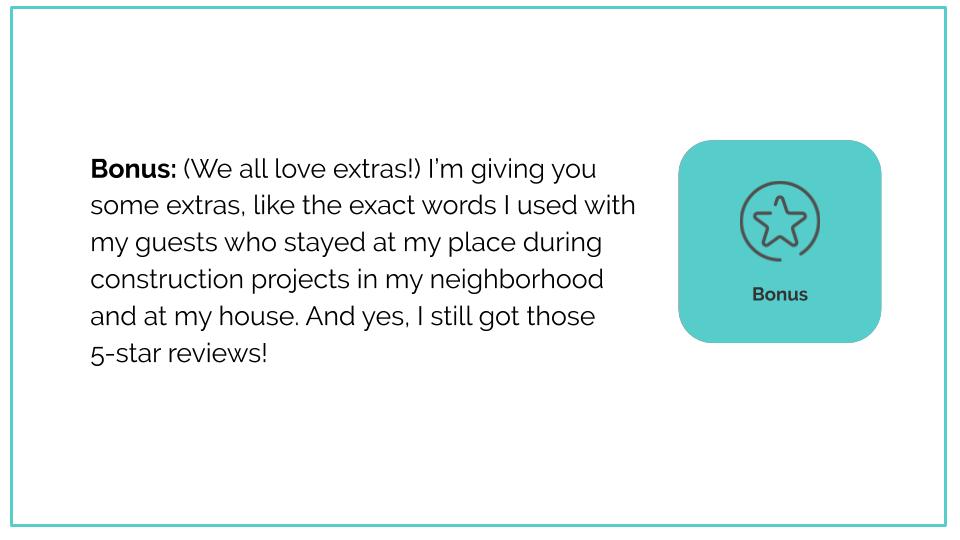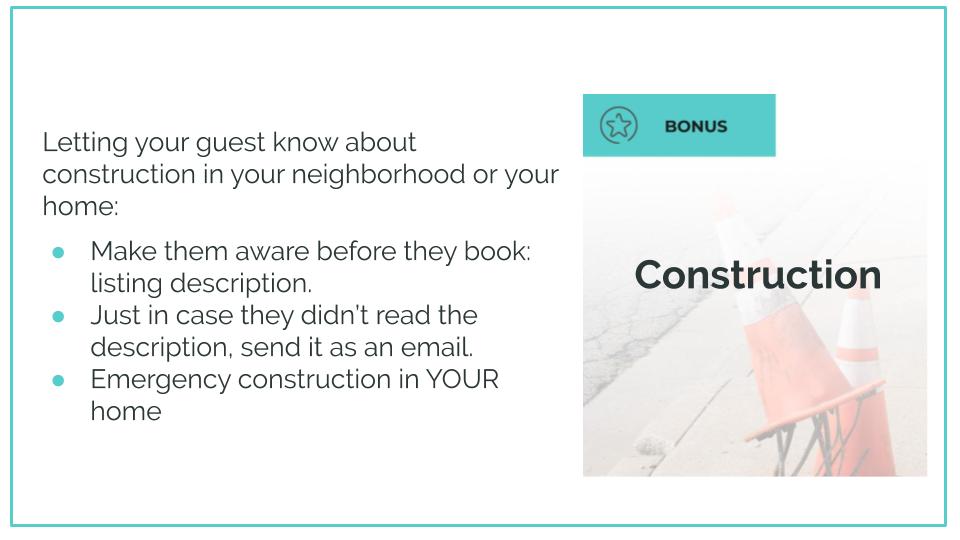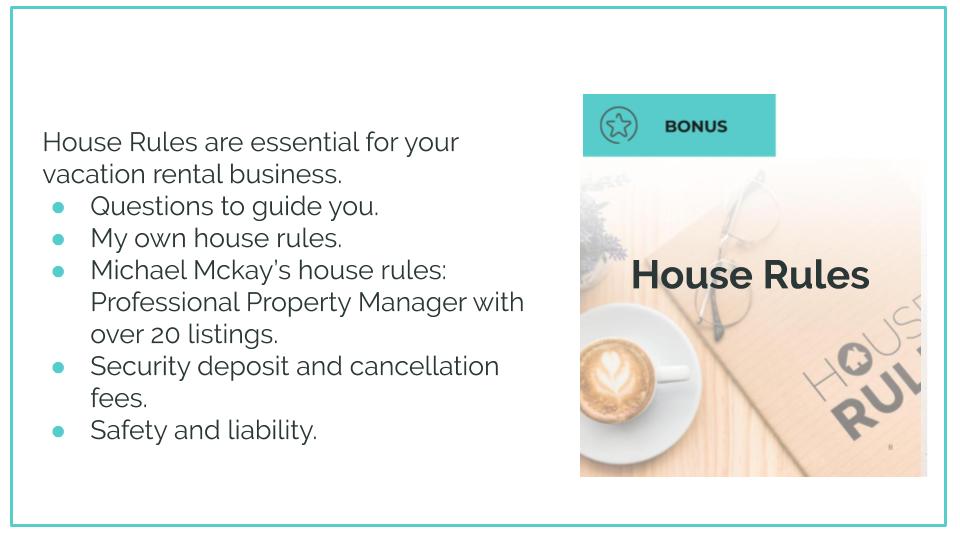 Course Curriculum
Welcome
Available in days
days after you enroll
Autohosting
Available in days
days after you enroll
Inquiries Templates
Available in days
days after you enroll
Stress-Free Communication Templates for
All Your Hosting Needs.
Your Instructor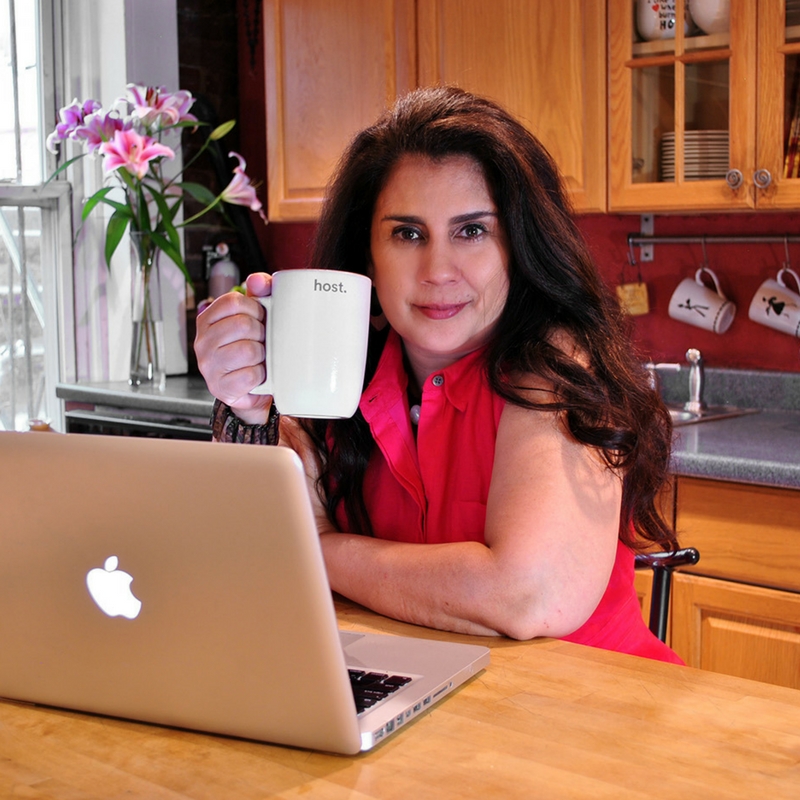 Why Me?
I've been an Airbnb host since 2010: way before Airbnb became a verb
I've addressed the New York State and City Assemblies as an active member in the grassroots effort for the legalization of Airbnb in New York. I've shared my compelling story with the New York Times, New Yorker Magazine, and National Public Radio.
I've spoken at Airbnb Open Conferences in Paris and Los Angeles and at the Vacation Rental Success Sumitt Conferences in Toronto and San Antonio… yes, I love sharing my knowledge with you, my dear hosts.
I created The Hosting Journey website, webinars and now the popular Hosting Journey Podcast, downloaded by thousands of hosts every month. (That's where I tackle subjects from taxes to legislation, to guests you love to see go. No subject is taboo. Yes, I even ask the question, "Do you ever have sex with guests?" Hmmm… you got to listen.)
I created the very popular House Manual template, another helpful and easy to use product from the Hosting Journey world.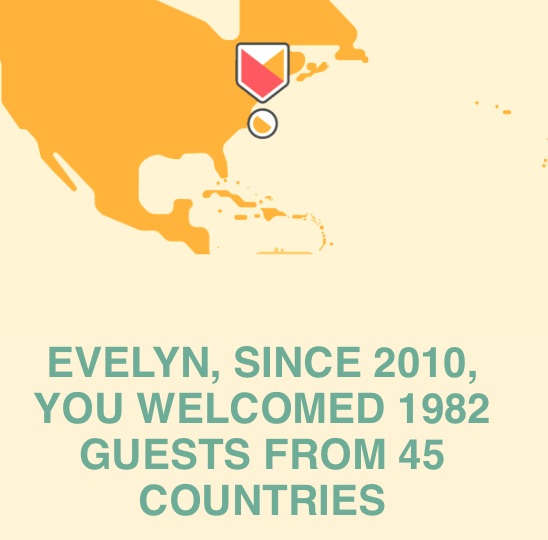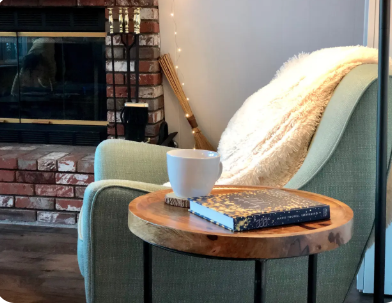 "Evelyn's templates are incredibly helpful in overcoming writer's block. They provide a simple outline that ensures we communicate effectively and thoughtfully with our guests - giving them just the right information right when they need it."
- Jess & Bryan Clemons
The Love from Hosts for
The 5-Star House Manual: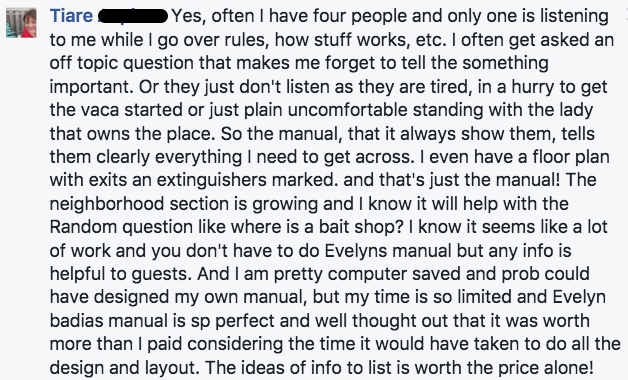 ---

---
---
The Love from Guests...
Well That's in the Reviews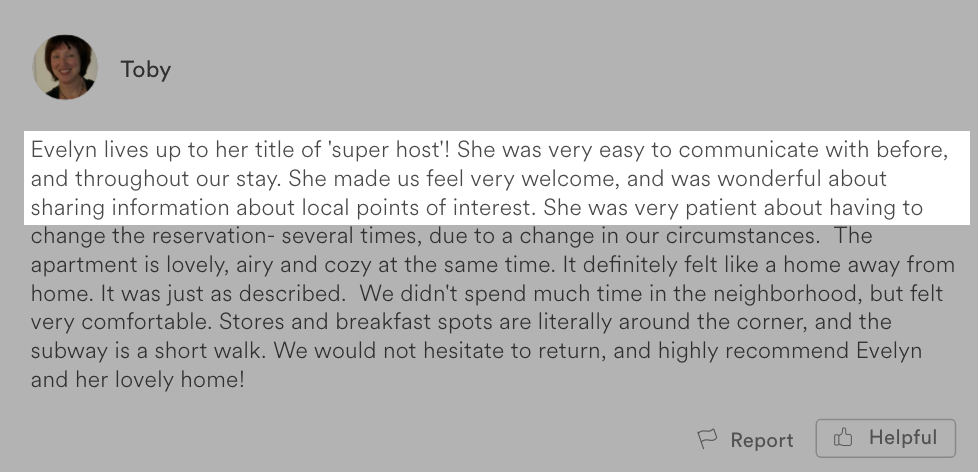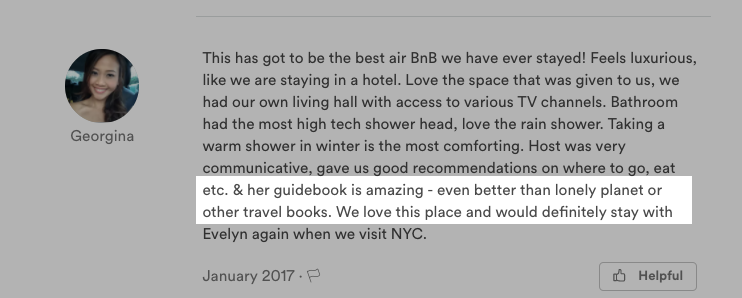 Frequently Asked Questions
What if I my computer crashes and I lose my scripts?
First of all... AHHHH! I hope it was backed up. But don't worry, your scripts are available—just log back on, and Voila! Those magically worded scripts will be here waiting for you. (Unfortunately not with your modifications. I will suggest using Google Docs and keeping a copy there.)
How long do I have access to these templates?
How does lifetime access sound? After enrolling, you have unlimited access to these templates...across any and all devices you own.
I love them so much… can I use them everywhere?
Thank you... and, yes—use any template for any listing that you have. You pay once and they're yours FOREVER!
Will you add more scripts?
I don't want to make promises.,.but if I do add scripts, you'll get all the upgrades for FREE.
What is your refund policy?
Since this is a digital product: once you download it, you own it.