Never be at a loss for words
ever again.

How to answer every guest email in 5 minutes or less.
Including the ones asking for a discount.

My host-tested, guest-approved,
easy peasy email templates for
every situation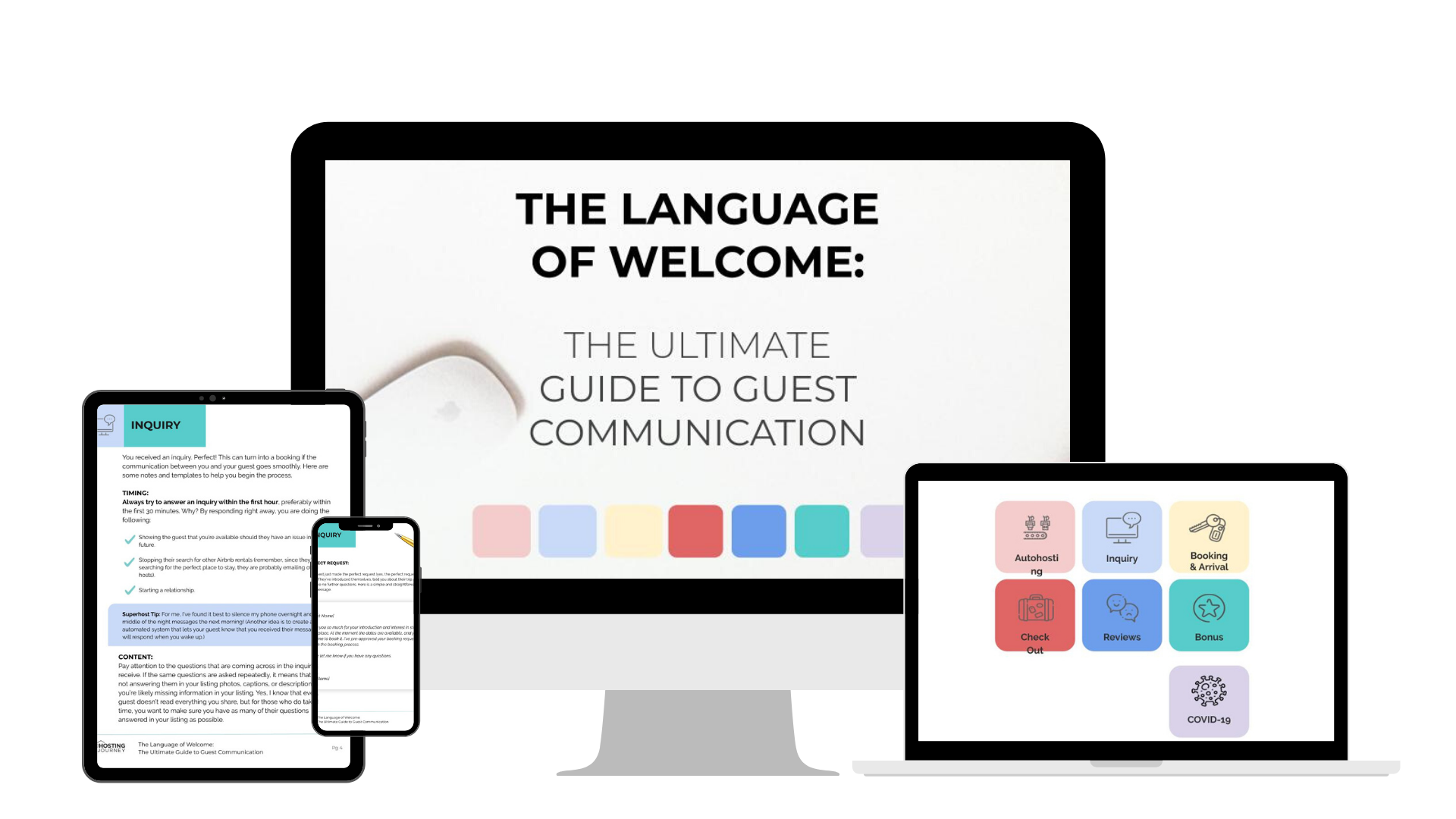 The
Language of
Welcome
Your Ultimate Guide to Guest Communication
The pre-written scripts you copy and paste so that you Book, Delight, and Get 5-Star Reviews
Over 25 pre-written scripts, from inquiry to reviews.
Now updated with COVID-19 scripts I'm using right now
It's the quickest and most effective way to go from being at a loss for words to feeling confident and in control.
Designed to help you step-up your guest communications.
Literally word-for-word, step-by-step. Nothing is left out!
The Language of Welcome is for you if...
You want your messages to sound warm and welcoming but aren't sure if that can be achieved with automation. Yes it can, let me show you how.
English isn't your first language and you don't feel confident with your writing skills (yet).
You stare at the blank screen and re-write the same message again, again, and again.
You don't want to sound rude while declining a discount request guest.

You find yourself going to Facebook to ask how to answer that early check-in request, that pet request, how to review "that" guest...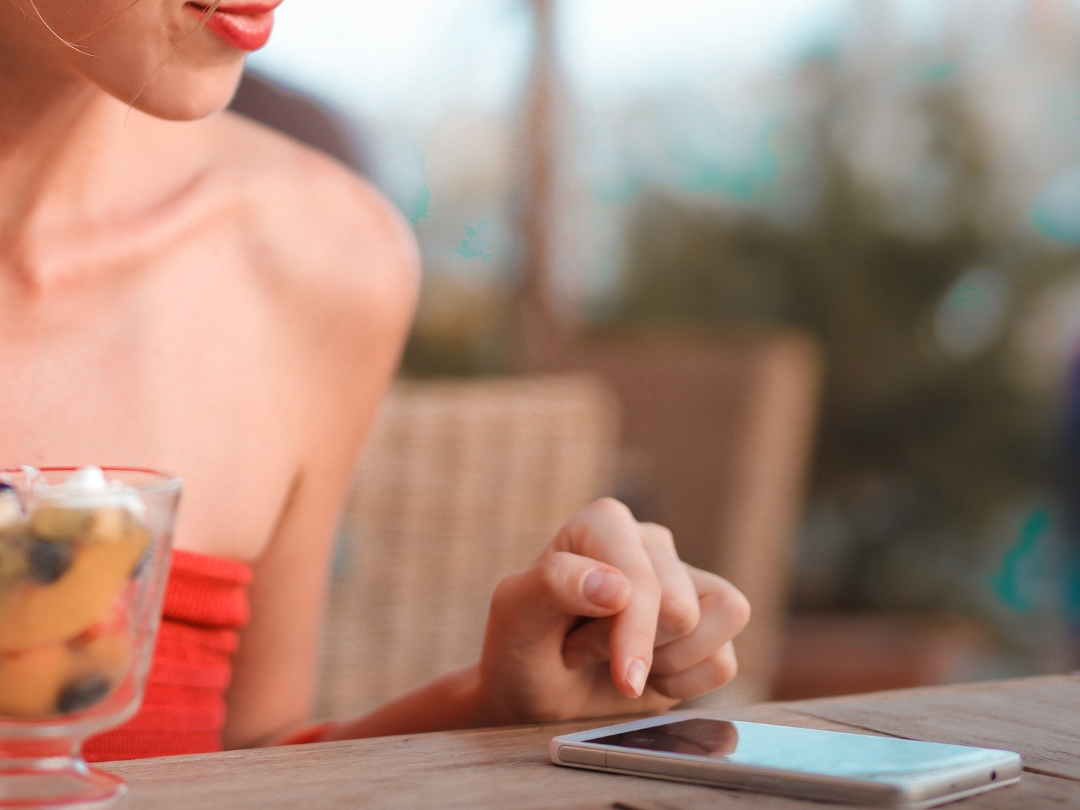 Instead of dealing with the anxious pit in your stomach and the back and forth with everyone you know.
"Should I deny them?,"
"But it's the "Rona" season."
"What do you think I should say?"
Steal all my Secrets.
All my Words.
Go from a one-word inquiry to a confident response,
getting that guest to start a bridge of communication
in as little time as it takes to brew that perfect cup of coffee…
The Language of Welcome
Since 2010, I have opened my home to over 1,982 guests from 45 countries. That's a lot of people, emails (and laundry) with different languages, needs, and unique situations.
If there's a host-to-guest scenario, I've lived it and written a message about it. Now I'm excited to share my tried and true communications formula and style with you.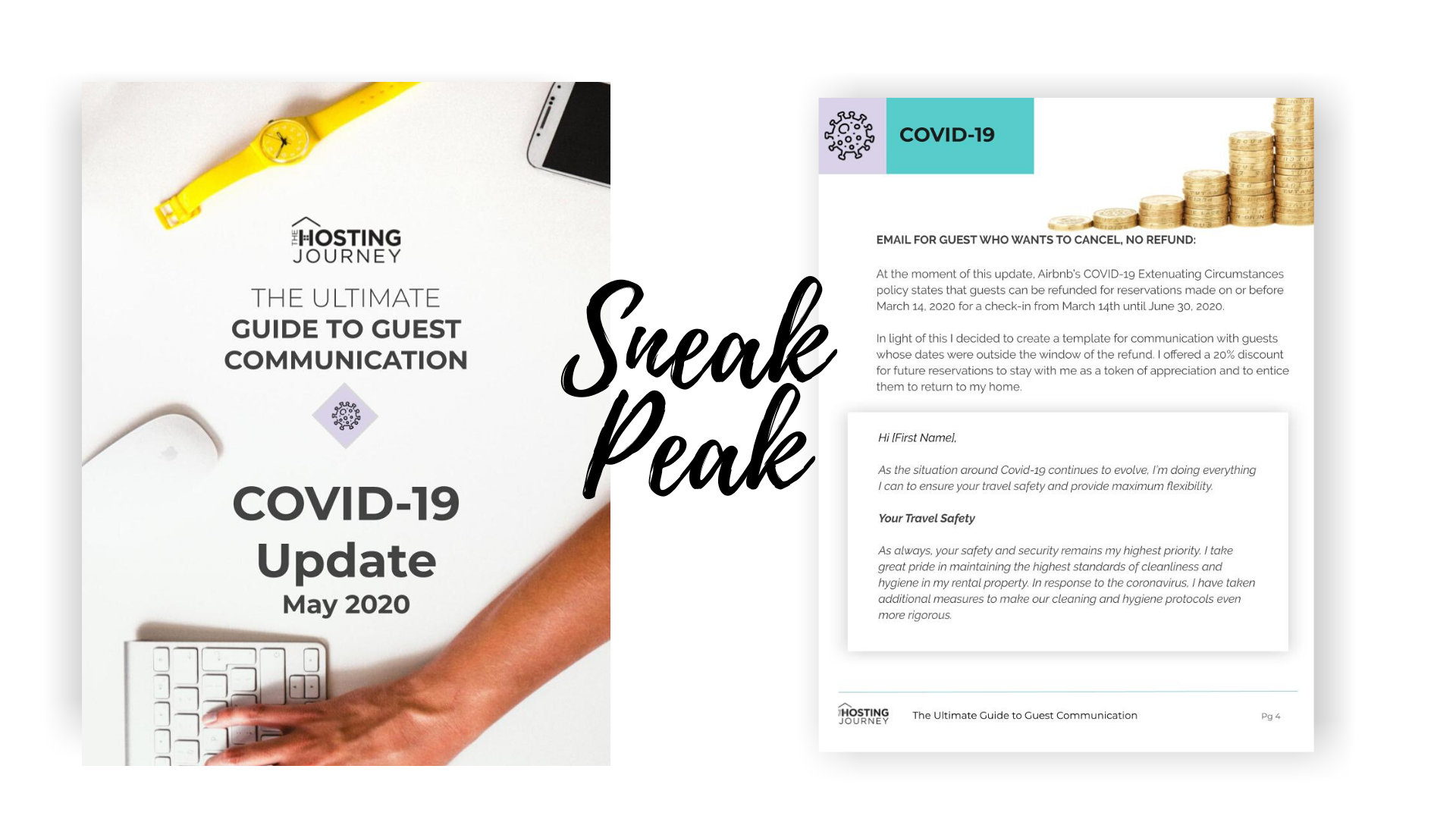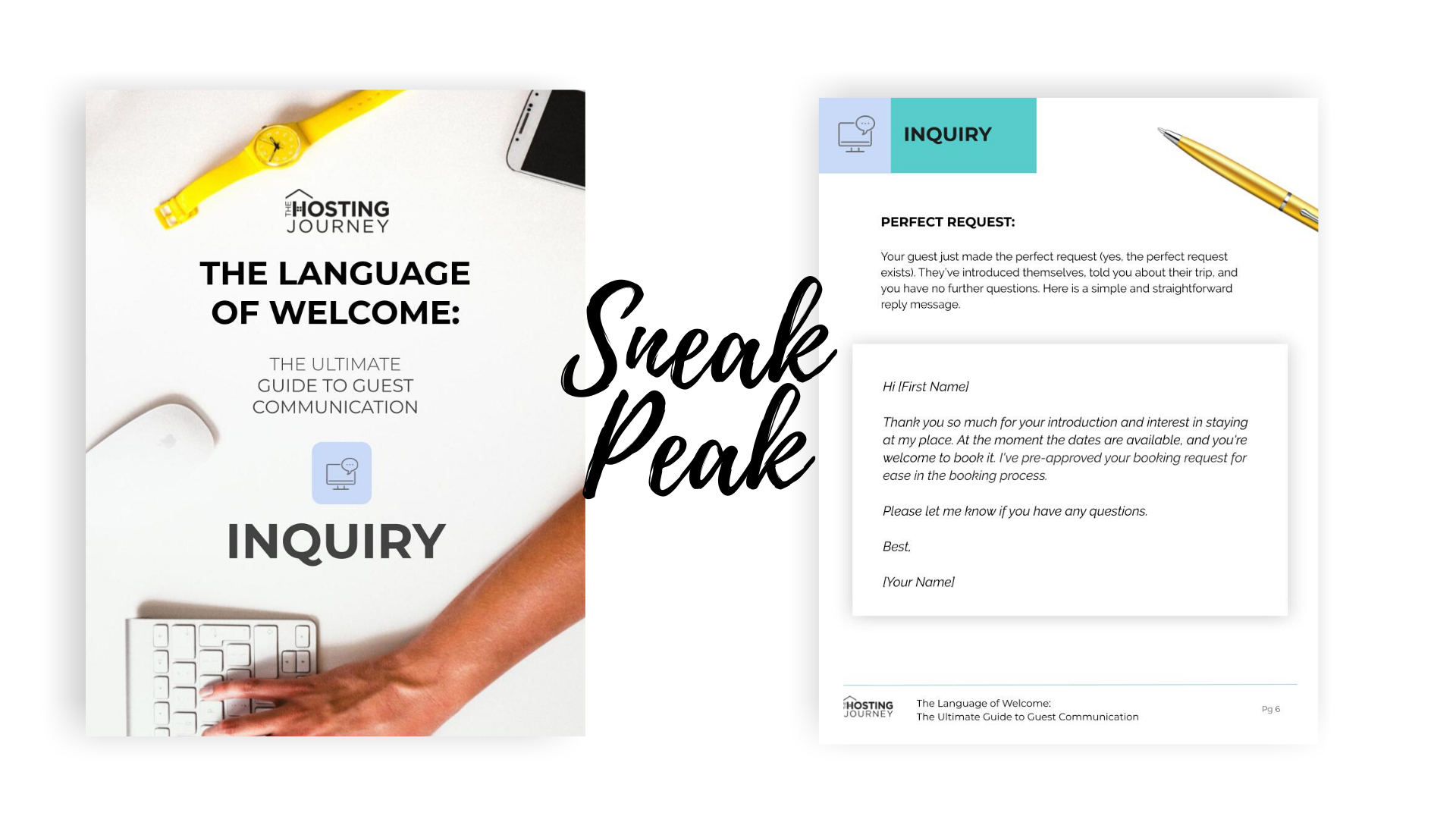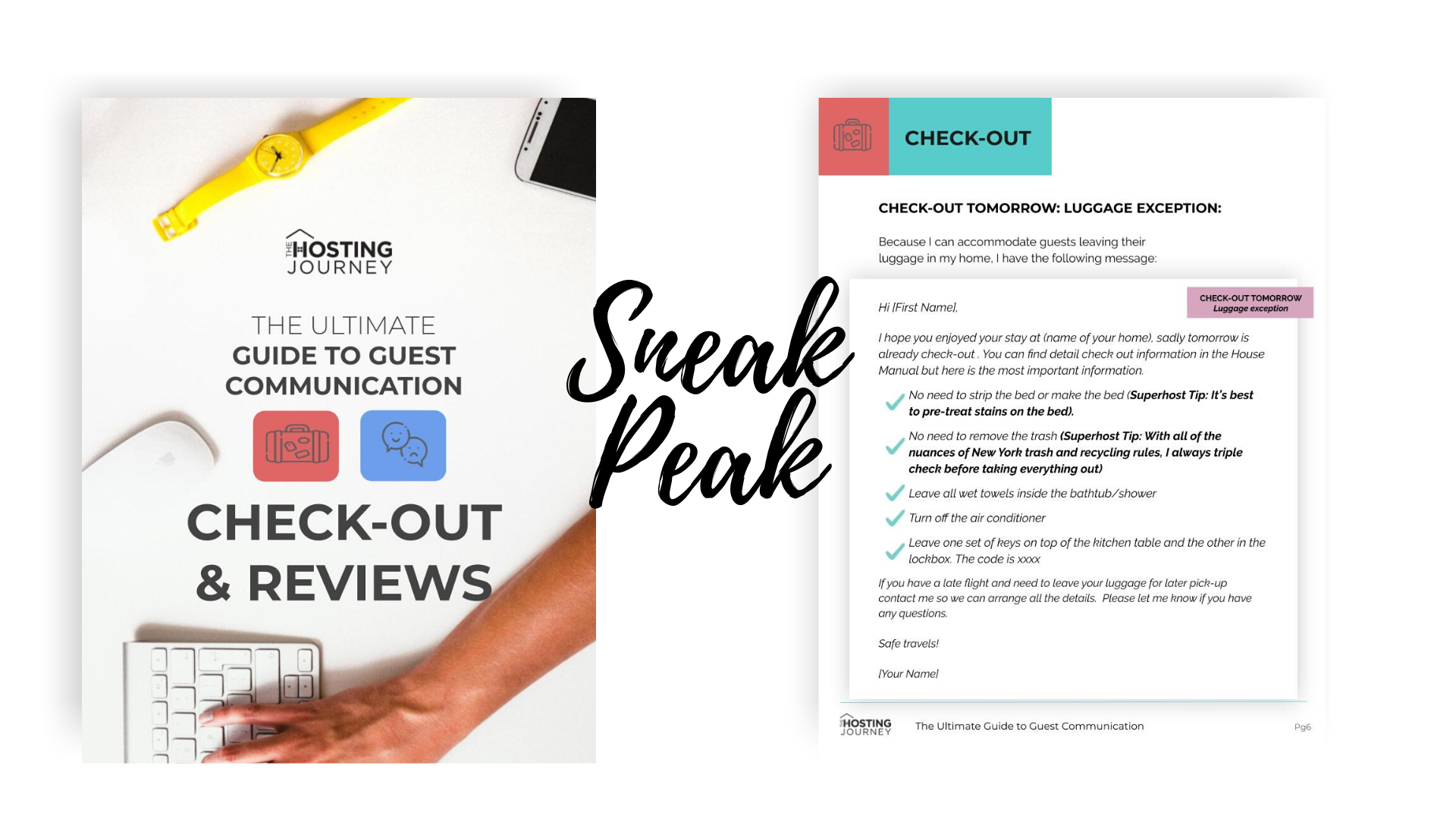 What you get from
The Language of Welcome
Stress-Free Communication Templates for All Your Hosting Needs.
Over 20 scripts you can either use word for word or use to get you started on your own customized message, because every guest is unique. There's nothing like sprinkling a little of what makes you special in your communication.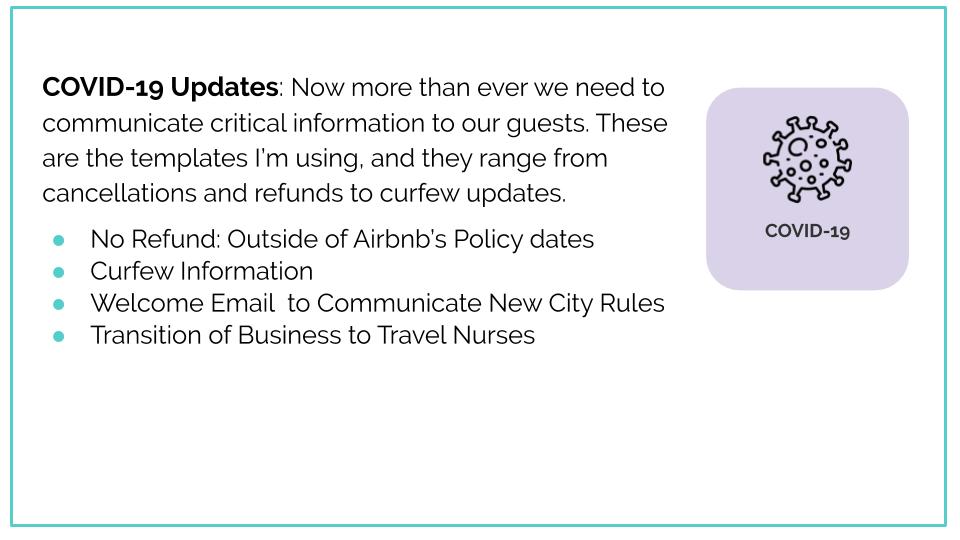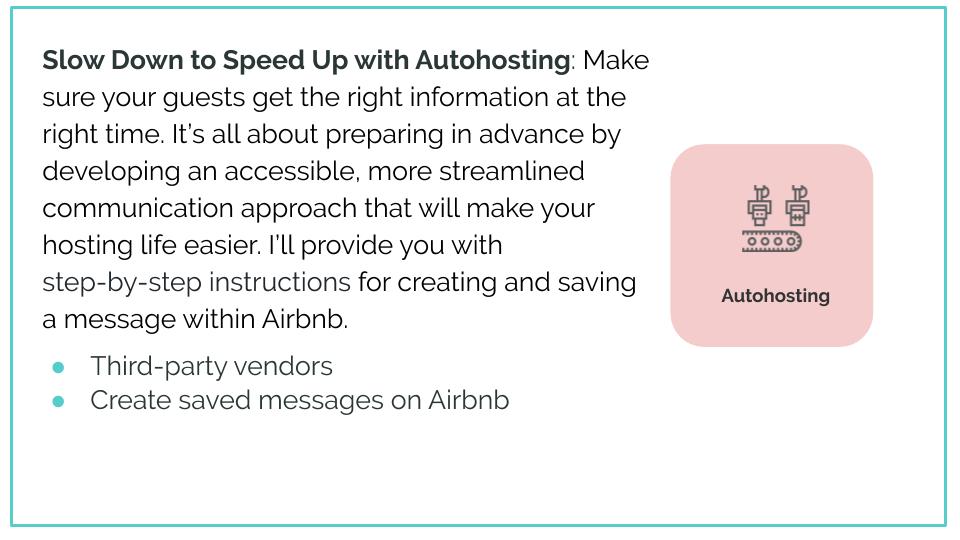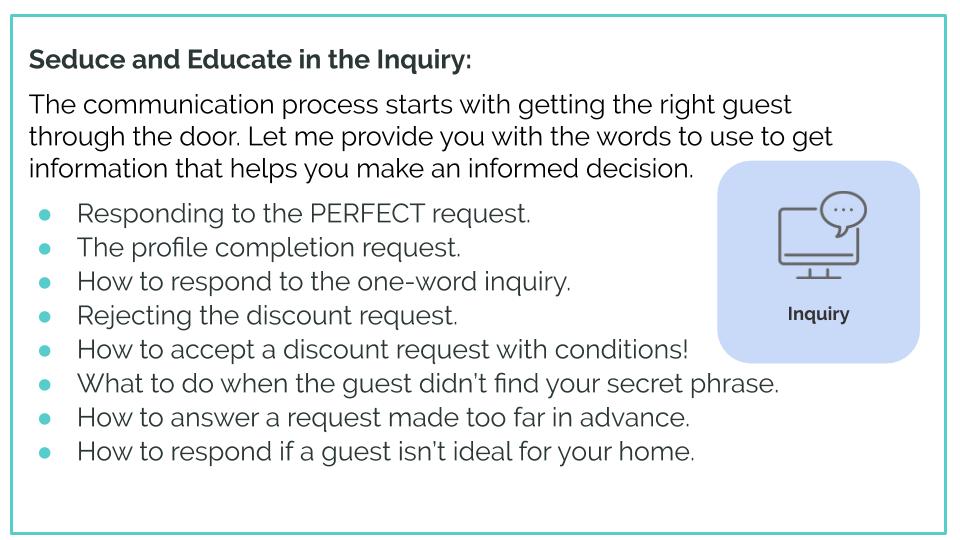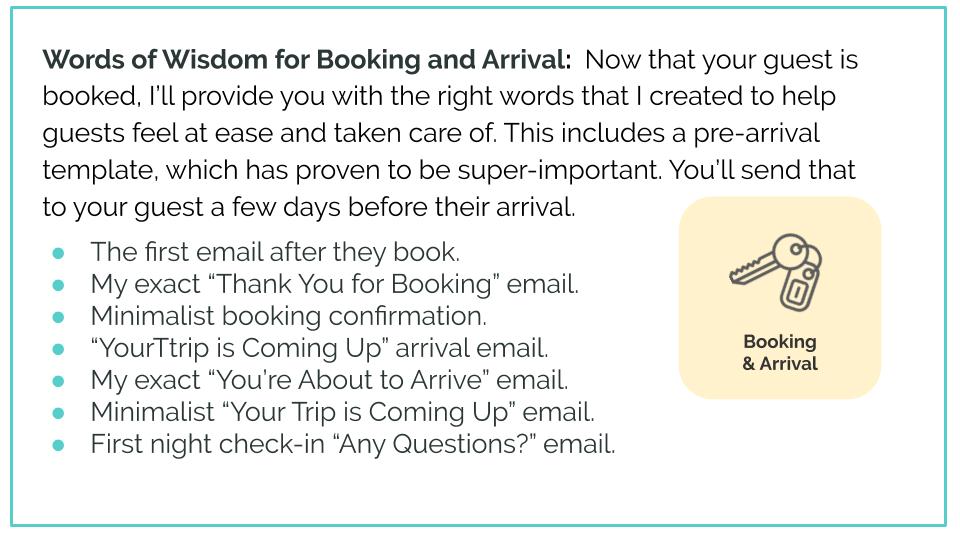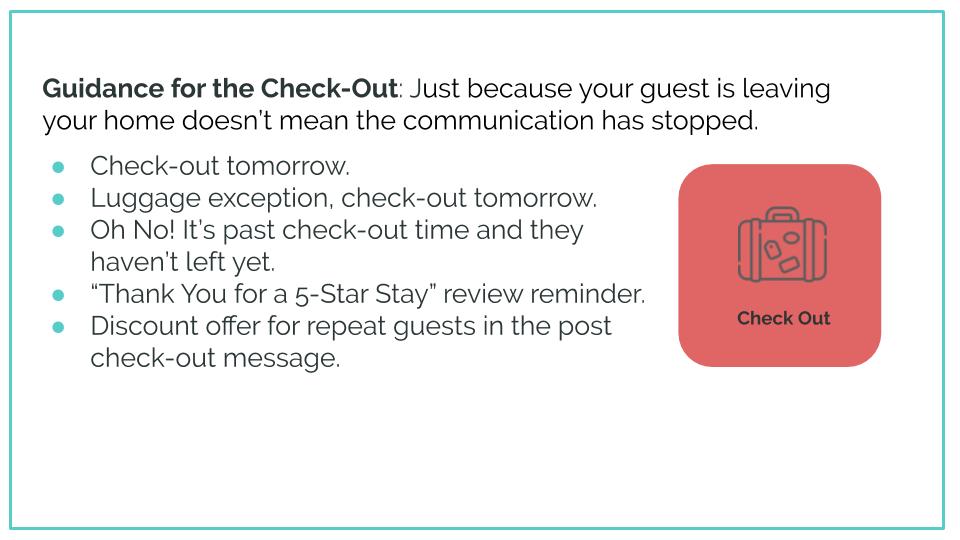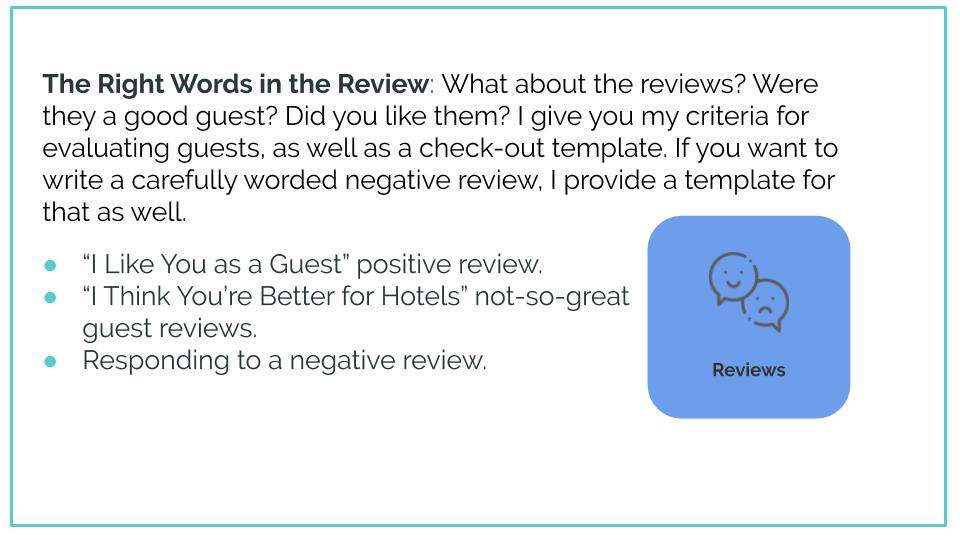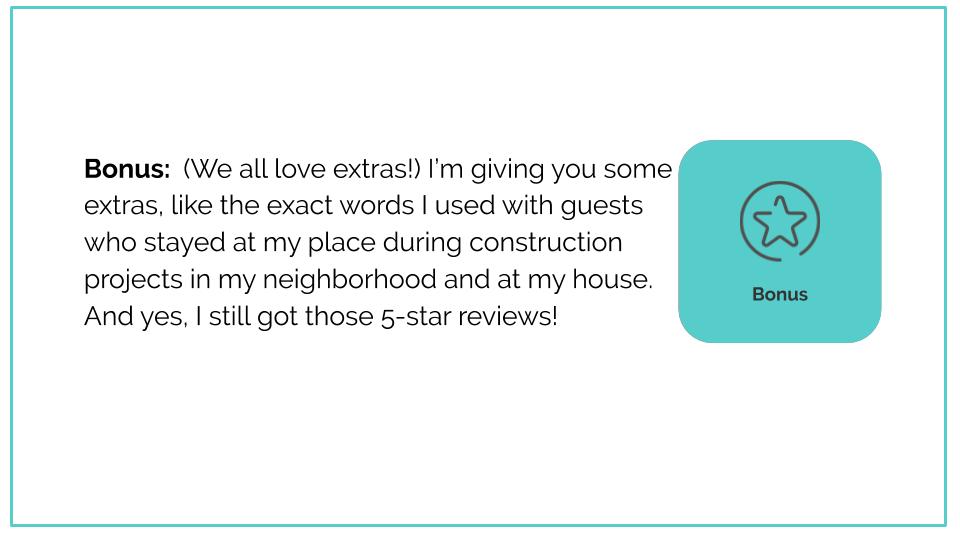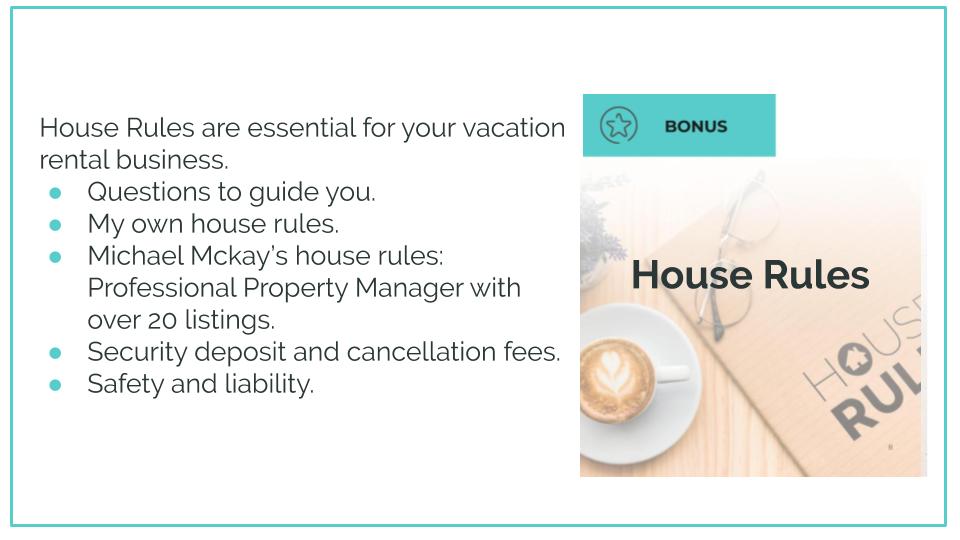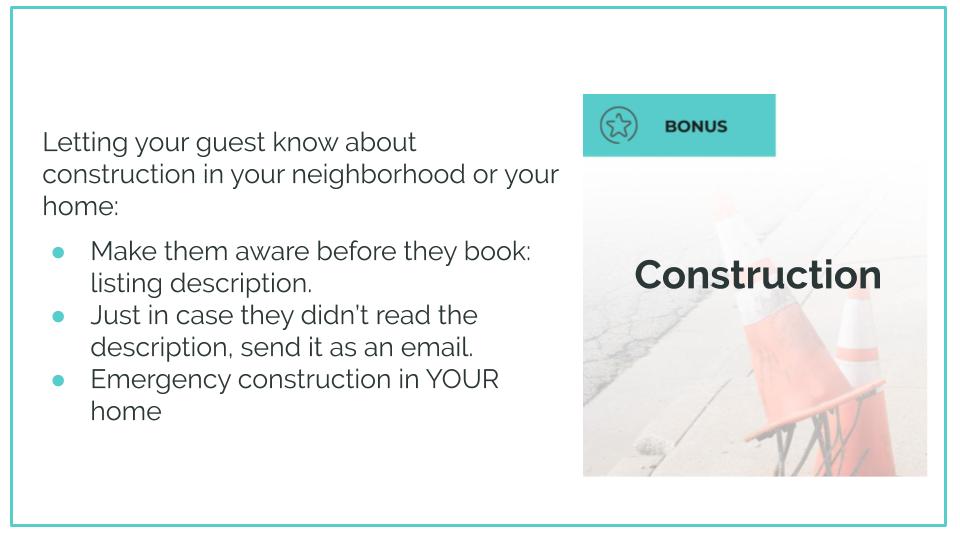 Course Curriculum
Welcome
Available in days
days after you enroll
COVID-19 Templates
Available in days
days after you enroll
Autohosting
Available in days
days after you enroll
Stress-Free Communication Templates for
All Your Hosting Needs.
Your Instructor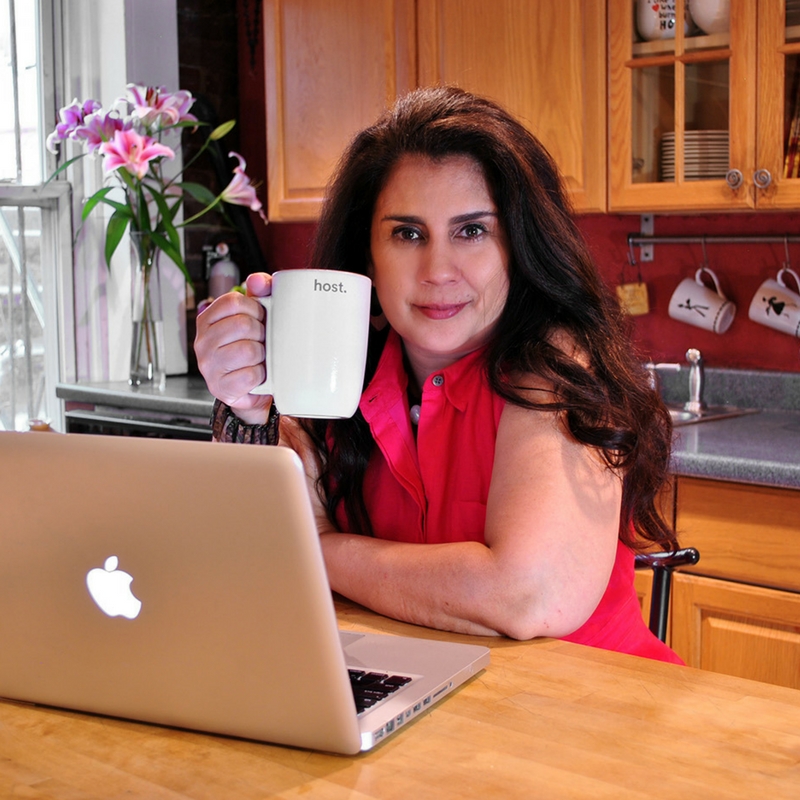 Why Me?
I've been an Airbnb host since 2010: way before Airbnb became a verb
I've addressed the New York State and City Assemblies as an active member in the grassroots effort for the legalization of Airbnb in New York. I've shared my compelling story with the New York Times, New Yorker Magazine, and National Public Radio.
I've spoken at Airbnb Open Conferences in Paris and Los Angeles and at the Vacation Rental Success Sumitt Conferences in Toronto and San Antonio… yes, I love sharing my knowledge with you, my dear hosts.
I created The Hosting Journey website, webinars and now the popular Hosting Journey Podcast, downloaded by thousands of hosts every month. (That's where I tackle subjects from taxes to legislation, to guests you love to see go. No subject is taboo. Yes, I even ask the question, "Do you ever have sex with guests?" Hmmm… you got to listen.)
I created the very popular House Manual template, another helpful and easy to use product from the Hosting Journey world.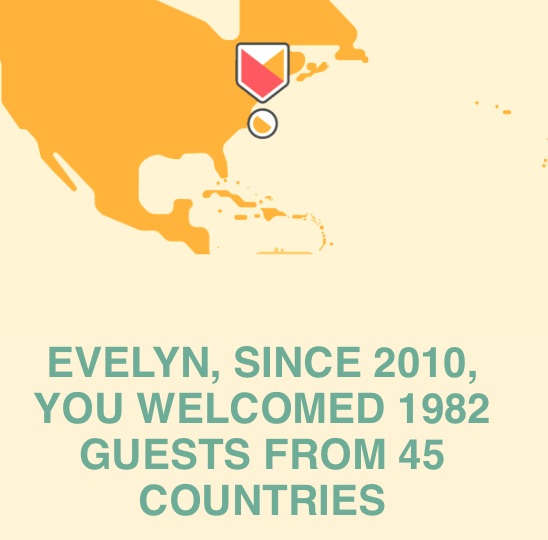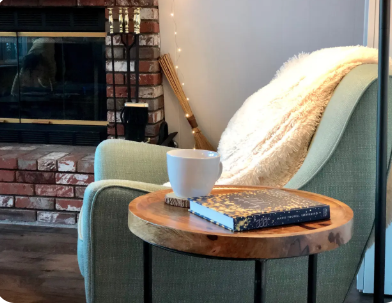 "Evelyn's templates are incredibly helpful in overcoming writer's block. They provide a simple outline that ensures we communicate effectively and thoughtfully with our guests - giving them just the right information right when they need it."
- Jess & Bryan Clemons
The Love from Guests...
Well That's in the Reviews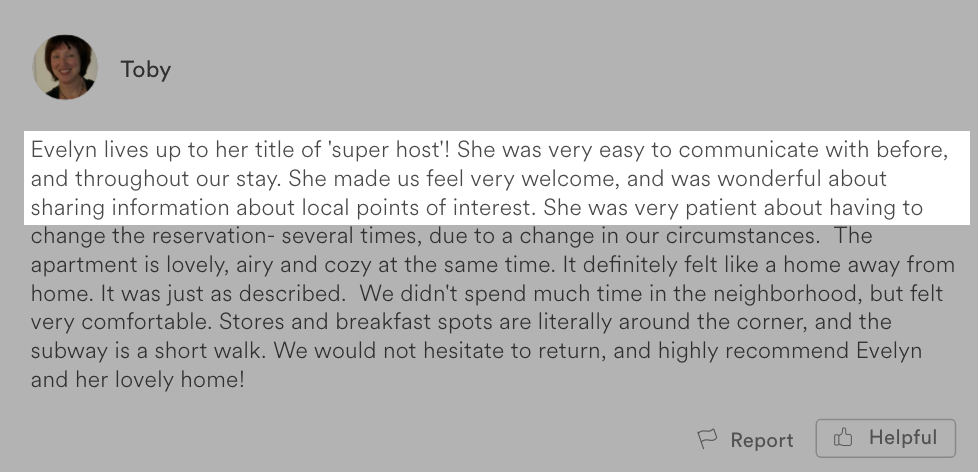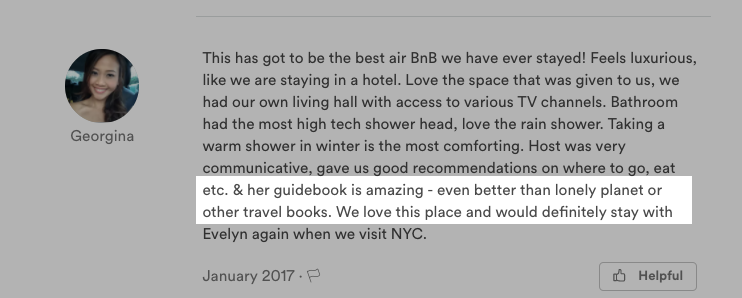 Frequently Asked Questions
What if I my computer crashes and I lose my scripts?
First of all...AHHHH! I hope it was backed up. But don't worry, your scripts are available. Just log back on, and Voila! Those magically worded scripts will be there waiting for you. (Unfortunately, they will be the original templates without your modifications. I suggest using Google Docs and keeping a copy there as a backup-for-your-backup, just to be safe.)
How long do I have access to these templates?
How does lifetime access sound? After enrolling, you have unlimited access to these templates across any and all devices you own.
I love them so much… can I use them everywhere?
Thank you! And yes, use any template for any listing that you have. Pay once, and they're yours FOREVER! Including any updates.
Will you add more scripts?
I don't want to make promises, but if I do add scripts you'll get all the upgrades for FREE.
What is your refund policy?
30 Days. If you don't love the Language of Welcome templates, find value, or don't use them, you don't even need to return them.