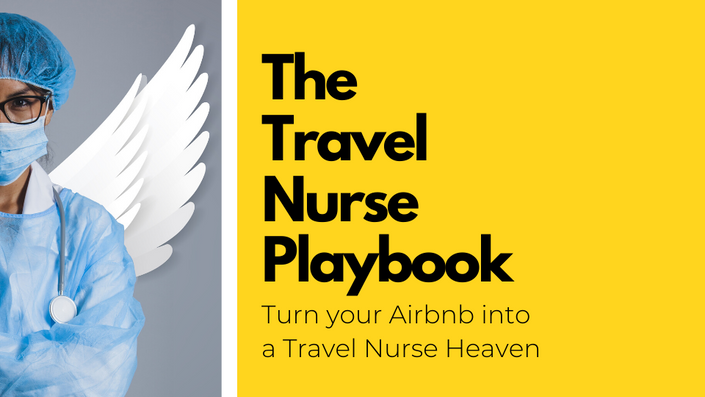 The Travel Nurse Playbook
Your Step-by-Step Guide to Attract and Book Travel Nurses
Expand your short-term-rental by getting into the hot market for Travel Nurses

Are you looking for new sources of revenue?

Or independence from Airbnb?
The Travel Nurse market is here to stay,
and I know how you can tap into it.
The vacation rental scene has changed. Travel plans are different and there are more complicated hosting requirements.

You're asking yourself two questions:
Do I want to continue hosting?
How can I ensure a more reliable income from my rental space?
I've asked myself both questions and have found some good answers and workable solutions. Let me share what I found.
The learning curve was deep and fast.
In less than 10 days I went from an empty calendar to fully booked for 60 days
The Travel Nurse Playbook was created to help the Airbnb host who wants to move into the Travel Nurse Market NOW without the feeling of, "Am I doing this right? I'm used to hosting tourists for just 3 days!"
The Travel Nurse Playbook is perfect for hosts who have found themselves with reduced bookings and are wondering what to do next.
The Travel Nurse Playbook: is a step-by-step strategic course that's designed to help you jump right into the travel nurse market with all the systems, processes, and know-how you need.
Because the travel nurse market is not like Airbnb. Trust me. I know.
The Travel Nurse Playbook is jam-packed with valuable information like:
— 1 —
Where to Find Travel Nurses
Because nurses aren't searching on Airbnb. In this playbook, I'm going to tell you EXACTLY where to find them and how. Oh, and I'll explain why they aren't fans of Airbnb (because you want to know).

Even better, you won't have to do any research, because I'm going to give you every link so that all you have to do is click, and "Voila!"
... and How to Plan Your Marketing
Traveling Nurses are a different market, and you have to market differently. I'll show you how. From the best ways to showcase your space to the best place to put your marketing dollars, you'll be prepared to attract these professionals and interest them in your rental.
— 2 —
How to Handle Finances
Oh, that's such a hot topic; and I'll dive deep right into it. From what to charge, to how to collect your rent and security deposit. Remember: when you're hosting travel nurses, there's no Airbnb collecting money on your behalf.

...and Contracts
An appropriately worded contract will protect both you and the travel nurse you host. Besides, travel nurses expect one. I'll share the contract (created by a New York lawyer) that I'm currently using with my own travel nurses.
— 3 —
Effective Communication

I'll tell you the most important questions to ask. You will be communicating directly with travel nurses. There is no instant booking. So your communication has to be on point.
Plus, you'll get all the communication emails I've used to welcome travel nurses into my own home. No need to second-guess yourself.
— 4 —
The Secrets to Preparing Your Space for Travel Nurses
A travel nurse stays for eight weeks or longer, so it isn't the same as a tourist being there for just five days. You'll learn the dos and don'ts for preparing to host them.
Also... I'll share secrets like the essential amenity travel nurses love most, and what to do if you don't have it. Yes, there are solutions.
I'm a host like you, so I understand your hesitation when it comes to pivoting and marketing to a new audience. New can be scary. But it can also be amazing..
I've learned so much about hosting in the Travel Nurse Market, and I'm excited about sharing this information with you. I know you'll be thrilled with the knowledge you gain, and I know it can dramatically change and improve your hosting business.
If you're not happy with The Travel Nurse Playbook I'm offering a 30-day money-back guarantee.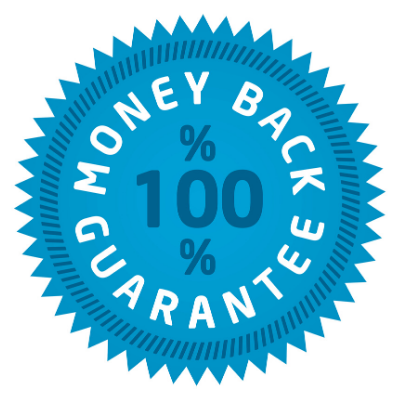 Ahh, my dear host.
We had plans and then life had other plans.
I started 2020 with a massive renovation project.
Because my 2019 Airbnb income had seen a 30% increase, I was confident 2020 was going to be just as good.
But COVID-19 had other plans.
I have been Airbnbing since 2010, and believe me in those ten years as a host I have faced my share of challenging experiences that have caused me to pause and regroup:
When Hurricane Sandy hit New York, I had cancellations; and for 30 days I hosted (for FREE) New Yorkers who had lost their homes.
For 2 years there was a construction job happening just two houses down from my own. I had to make my guests aware of the situation before they arrived.
In December 2019, I opened La Casita in Puerto Rico. Just days later we had earthquakes that resulted in the loss of water and electricity. Of course, I still had guests who gave me 5-star reviews.
The word "unprecedented" was often used to describe the year 2020. That's because it was. Of course, I was concerned when the pandemic hit; but I wasn't paralyzed by what was happening.
I was able to view the situation and take action.
My action was to pivot into the Travel Nurse Market, to learn everything about it, and to prepare myself for change.
Now I'm sharing that knowledge with you.
I've been Airbnbing since 2010, and since 2014 I've been teaching hosts worldwide how to create and maintain a successful hosting experience.
Now I want to share with you some actionable insights on how you can make 2020 your most successful year ever as an Airbnb host.
Whether you're a veteran host or a newbie to the Airbnb home-sharing world, my Travel Nurse Playbook workshop will prepare you to pivot and reach the travel nurses who are RIGHT NOW making plans to find housing in your community.
Unprecedented? Yes.
Impossible? No. Let me show you the possibilities.
Your Host,
Evelyn
What makes the Travel Nurse Playbook different?
I don't just teach this stuff; I actually do it. This is the system I used to get travel nurses booked into my own home. It's the contract I use, the emails I sent.
I've been in your shoes. Just like you, I found myself with an empty calendar and with thousands of dollars in cancellations. I knew that I needed to make a change FAST or my home would suffer.
I'm just like you, and my goal is to help you change direction in your business. Remember, it doesn't have to be forever. But you can try The Travel Nurse Market for right now and for the slow seasons.
Frequently Asked Questions
When does the course start and finish?
Immediately and forever. Once you finish the checkout process right here, you'll soon receive an email with all the access information you'll need to log in and find the bonuses.
How long do I have access to the course?
How does lifetime access sound? After enrolling, you have unlimited access to this course for as long as you like - across any and all devices you own.
What if I am unhappy with the course?
We would never want you to be unhappy! If you are unsatisfied with your purchase, contact us in the first 30 days and we will give you a full refund.
Course Curriculum
Realistic Calendar
Available in days
days after you enroll
Focus on Finances
Available in days
days after you enroll
Get Travel Nurses in Your Home Right Now. EASILY.